Currently, 65% of companies don't screen beyond Tier 1 suppliers*
Protect your brand and minimize legal and regulatory risk by staying ahead of emerging compliance issues—without dedicating additional time and resources—by using risk management alerts from Mastercard Track.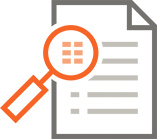 Actively monitor global suppliers for sanctions, adverse media and more
Receive alerts from 4,500+ sanctions, watch and law enforcement lists, plus 21,000+ adverse media sources.

Defend against invoice fraud and securely manage third-party credentials
Mastercard Track can securely manage payment details, business entity information and key contacts from over 200 million records.

Keep tabs on credit worthiness of third parties you do business with
Mastercard Track monitors business credit reporting to alert you to potential credit risk with third-party partners.
*Source: Deloitte, "Global Chief Procurement Officer Survey", 2018.