$16T
or 50% of B2B payments are sent via checks1
40%
of firms plan to use same-day ACH in lieu of paper checks2
Mastercard + Vocalink™: Leading the real-time payments transformation
The acquisition of Vocalink in 2017 expanded Mastercard's capabilities beyond industry-leading card solutions, now providing consumers and businesses with access to even more choices in digital payments. Mastercard's expertise in fraud detection and prevention, and transaction data analytics, combined with Vocalink's deep experience as the pioneer of real-time payments technology, uniquely positions Mastercard as your single partner for immediate payment solutions. Enabling payments to work across multiple flows between businesses, consumers, governments, and banks.

Consumers
24/7 functionality
Immediate and safe
Payment certainty

Businesses
Real-time, assured payments
Lower fees and improved cash flow management
Improved customer engagement

Financial institutions
Lower costs and higher volumes
Improved customer engagement and new service offerings
Enhanced data capabilities

Governments
Improved efficiency
Increased financial inclusion
Increased liquidity and efficiency of payment
Introducing Vocalink Analytics
Cutting-edge data science solutions solve some of our customers' biggest problems

Financial Crime Solutions
Help identify and prevent money laundering across entire networks, as well as specific types of payments fraud.

Assurance Solutions
Provide an entirely new source of information for financial institutions and their customers. Information that flows through our payment systems is verified, providing confidence in every payment.

Decision Analytics
Help financial institutions make sense of what's happening around them – both at a business level and an economic level.

Consultancy Services
Support businesses in making the most of real-time opportunities by making sure their technology is optimized to create value and mitigate risks.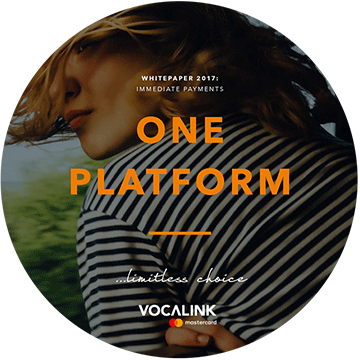 One Platform: Limitless Choice
Millennials have grown up in the digital age with the expectation of constant accessibility. As mobile phone penetration reaches almost 100% in certain developing countries, it's imperative for financial institutions and companies with a global footprint, along with the payments industry as a whole, to catch up and provide solutions that have immediate results. By moving to real-time payments, there is an opportunity to increase transparency, detect and help prevent fraud, and create efficiencies.
Please fill required fields
Download "One Platform: Limitless Choice" whitepaper
1 2016 –Oxford Economics, Euromonitor International, Kaiser Associates, McKinsey Payment Data, US Bureau of Economic Analysis, 2017; Statistics Canada, 2017; Mastercard internal analysis.

2 PYMNTS.com, Same-Day ACH Corporate Survey, 2018