How a mobile-first approach levels the international playing field



As digital platforms become increasingly central to everyday life, countries must accelerate their digital growth to become and remain globally competitive. The Digital Evolution Index 2017 explores just how this can be done.
To download a PDF version of the site content click here.
This article relates to the 2017 edition of the Digital Planet Report.
More than 25 years ago, the world embarked on a drive to connect consumers with digital resources. The internet equips users with fast access to information, commerce and communications. But the speed of uptake has varied greatly from country to country.
There are plenty of reasons for this disparity. These include the unequal buying power of consumers, the availability of appropriate infrastructure and differing social, political and economic environments.
Developed nations with mature economies surged ahead in the early years of the global dotcom boom. Some developing nations have since caught up and, on a few measures, are inching ahead of established digital markets like the US, Canada and the UK.
One important indicator of a country's digital potential is its uptake of mobile internet via tablets and smartphones. Countries in the English-speaking world reached this stage through iterations of services originally aimed at desktops and laptops.
Others, however, have taken a more direct route with a singular focus on internet access via mobile phones. This could be a game changer for developing economies who adopt a mobile-first strategy, says Ajay Bhalla, president of Global Enterprise Risk and Security at Mastercard.
"The implications for these countries, if they get it right, is the potential for rapid development. The more people have access to the internet the more opportunities there are for growth in so many sectors. Consider payments for all types of services – from travel to retail and even government services."
New digital ecosystem
Desktop PCs still account for more web traffic than smartphones in the UK and US, but in China the reverse is true and elsewhere smartphones are a clear winner. The effect is a global surge in mobile internet traffic. According to research by StatCounter1, world mobile internet usage outstripped desktops for the first time in 2016.
"Developing countries that have invested in mobile internet infrastructure are being rewarded with the fast growth of digital services"
"The US and UK were introduced to the internet through desktops and laptops, but the 1.5 billion new internet users added in the last five years had their first brush with the internet on a mobile device," explains Dr Bhaskar Chakravorti, senior associate dean of International Business and Finance at The Fletcher School at Tufts University.
"This has created a new ecosystem, where part of the world is sitting on legacy systems that were set up for a desktop-centric population, but another part is starting with a full-blown mobile-centric approach."
Chakravorti points to the example of M-Pesa, a money-transfer service that launched in Kenya in 2007, but which has since spread across Africa, India and parts of Eastern Europe. The business rose from the constraints of a market in which few had access to a bank account.
Customers can deposit money, transfer amounts via secure SMS messages and redeem deposits – all via a regular cellphone. M-Pesa is popular in countries where institutions are weak but mobile phone adoption is high.
The explosion of smartphone use in the developing world has moved this narrative forward. Developing countries that have invested in mobile internet infrastructure are being rewarded with the fast growth of digital services.
Nowhere is this more pronounced than in China, where smartphone adoption has rocketed since 2010. Today more than half the population have access to mobile internet and 95 percent of mobile phone users have a browser on their handsets.
This compares favorably with India, a fellow fast-growth BRIC country with a giant population. While cellphone uptake in India has been strong of late, only roughly a quarter of the population can access digital services via a smartphone. That said, the popularity of services like M-Pesa, rooted in older technology, demonstrate the potential for growth through data-enabled mobile solutions in India as well as across Africa.
Which came first?
"Constraint is the mother of innovation," says Bhalla. "In China's case, constraints – particularly around affordability of access devices among its rising middle class – have forced businesses to innovate around phones. The giants of China's internet economy – Tencent, Alibaba and Baidu – were all built around a mobile device.
"Contrast that with the giants of the western world, who would all love to break into China, such as Amazon, Google and Facebook. They were all created for the desktop era and eventually adapted to mobile."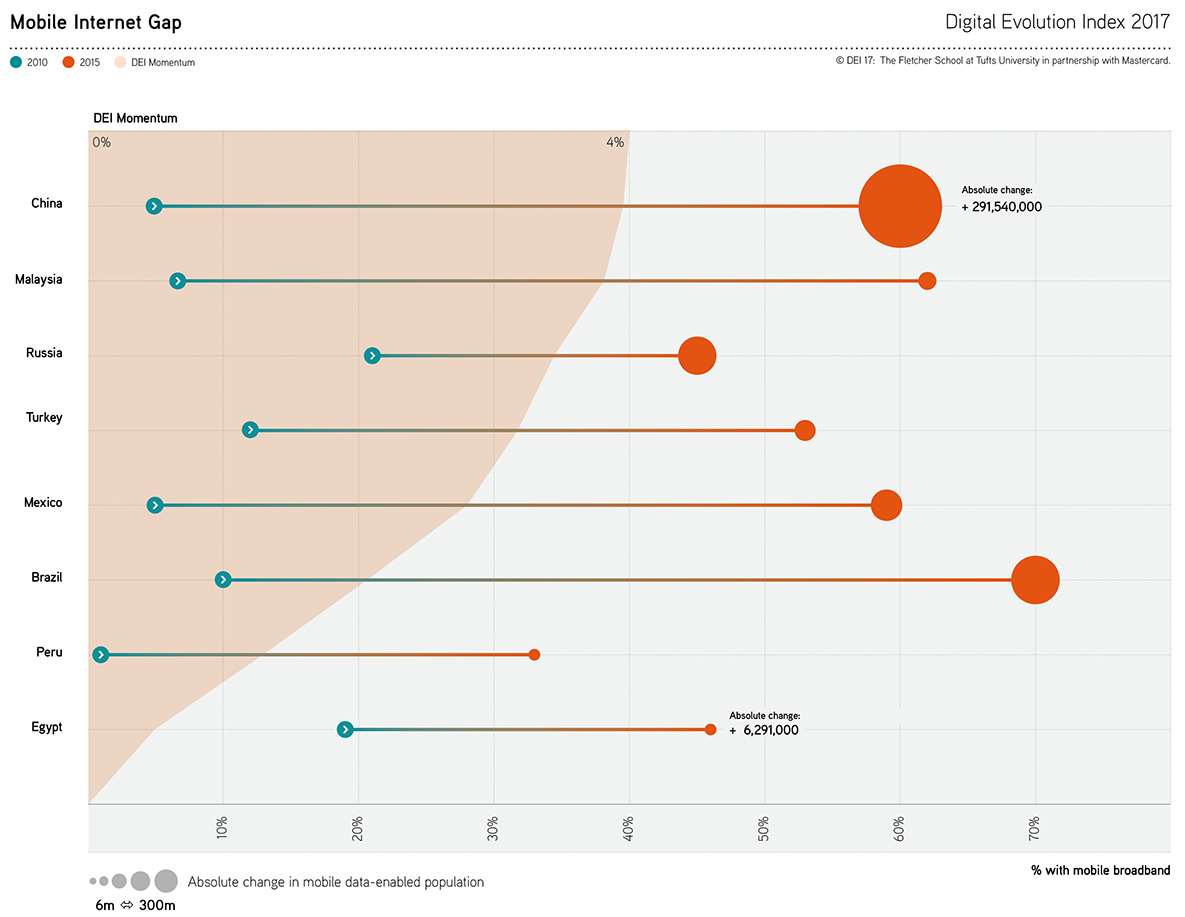 In mobile-first environments, the context is completely different. In China, businesses are focused on how they can make money from smartphones, the primary access device for many. In this respect, the Chinese are surging ahead.
"In 2010 most digital commerce transactions were cash on delivery; in other words, physical money was exchanged on the doorstep," Chakravorti continues. "By 2015, two-thirds of all transactions were on a mobile phone, including those taking place in bricks-and-mortar shops."
India, in contrast, is making slow progress. While cellphone pick-up is strong, the gap between "smart" and "feature" phones in circulation is wider than ever before. India's stubborn cash economy meant it took demonetization by government decree to wean Indians away from notes and coins – an event that saw mobile wallet provider Paytm claim 170 million users in under a few months2.
"China has an advantage because the state can force through developments it deems a national priority"
"India is an interesting example of a growing mobile internet gap. The country has been adding more mobile subscriptions and fewer mobile internet subscriptions," says Chakravorti. "Only 17 percent of the population owned a smartphone in early 2016.
"India has done a great job adding more mobile users, but the country is tapering off its broadband, which presents a challenge. It's not a problem of availability – it's a vast country and the most vibrant telecom market in the world. But affordability remains an issue."
Power of the state
China's rapid rise in this area can be explained in part by its relatively high level of state control on the economy, unlike in western democracies. Chakravorti says western regulations create stable institutions but can slow progress compared to places where decisions are made centrally.
The World Bank's ease of doing business ranking3 shows that the US and UK are better places to start and run a business, but that China has an advantage because the state can force through developments it deems a national priority.
"Contrast that with the UK's paralysis in deciding where to build new airport infrastructure – potentially with a third runway at Heathrow," Chakravorti points out.
"Institutions at their best are a huge help – and at their worst, a hindrance. In China, pretty much every telecoms player has some level of state involvement. They are able to corral companies in [such] a way that they can get to the last mile faster than in the rest of the world. It can accelerate progress, where other countries rely more on demand, competition and market mechanisms."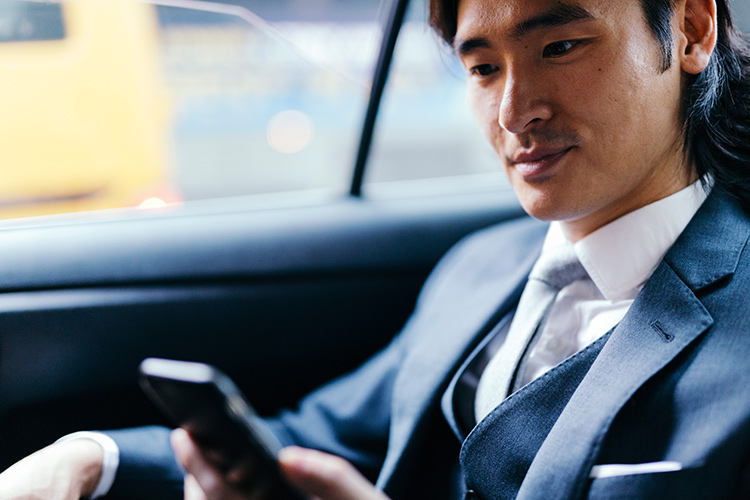 Another factor influencing mobile internet is the rapid pace of urbanization in China, where the growth of the manufacturing industry precipitated an influx of workers into city centers from the countryside. This in turn led to a big expansion of middle-class consumers.
China has widespread digital infrastructure, affordable mobile hardware and network plans, as well as a proliferation of internet services – all of which make buying a smartphone worthwhile. In countries where digital mobile is weaker, one or more of these factors is lacking.
Without 3G or 4G coverage, people can't access the internet; without affordable handsets they can't buy the means to get online; and in the absence of localized and relevant digital services there is no reason to buy a phone. Countries such as India, where appetite for mobile telephony is established but where internet adoption is low, must address these factors if they want to catch up.
1 Statcounter.com, Mobile and tablet internet use exceeds desktop for first time worldwide. November 1st 2016
2 Sen, Sunny. Mobile wallets see a soaring growth post-demonetisation. Hindustantimes. January 1st 2017
3 The World Bank. Economy Rankings. Accessed June 28th 2017. doingbusiness.org/rankings
All trademarks and trade names are the property of their respective owners.
Explore further insight on the Digital Evolution Index 2017