Introducing the 2017 edition of the Digital Evolution Index


As digital platforms become increasingly central to everyday life, countries must accelerate their digital growth to become and remain globally competitive. The Digital Evolution Index 2017 explores just how this can be done.
To download a PDF version of the site content click here.
This article relates to the 2017 edition of the Digital Planet Report.
Every day, billions of people around the world use the internet to share ideas, trade with one another and keep in touch with family, friends and colleagues. With worldwide internet penetration at nearly 50 percent1, the global digital economy has become a space of immense opportunity.
Similarly, it's clear that business and consumer transactions and interactions are becoming heavily reliant on us being connected. Digital flows are now responsible, according to the McKinsey Global Institu2, for more GDP growth globally than trade in traditional goods. Digitalization is now driving globalization.
As such, achieving a competitive advantage in the global digital arena has become a key priority for governments, businesses and citizens who strive for inclusion and relevance in this global marketplace. It is also clear that momentum, innovation and trust all have a critical role to play when countries look to improve their digital development.
It is in this context that The Fletcher School at Tufts University, in partnership with Mastercard, present the 2017 edition of the Digital Evolution Index (DEI 17).
The DEI 17 is a data-led evaluation of digital development across 60 countries rooted in four key drivers: Supply Conditions; Demand Conditions; Institutional Environment; and Innovation and Change. Over 170 indicators across these drivers are applied to create a robust framework for understanding digital evolution, providing each country with a DEI score.
This framework is combined with insights from academics and experts at Fletcher and inputs from business leaders driving digital change across the globe. Together, they help to paint a picture not just of what the digital landscape looks like today, but also how it stands to change in the future. The framework also provides policymakers and business leaders across countries with an understanding of how they can accelerate digital evolution locally to achieve a greater global impact.
Digital evolution explained
The DEI 17 includes analysis of each country's DEI score and digital momentum – the rate at which countries have been developing their digital economies since 2008. To investors and businesses, momentum is indicative of market attractiveness and potential; to policymakers, it is a proxy for competitiveness. It illustrates the pace of progress.
A high digital momentum score signals opportunity and, typically, improvements in access (more people coming online). It also reflects a society where people are finding increasing value and utility in the digital space.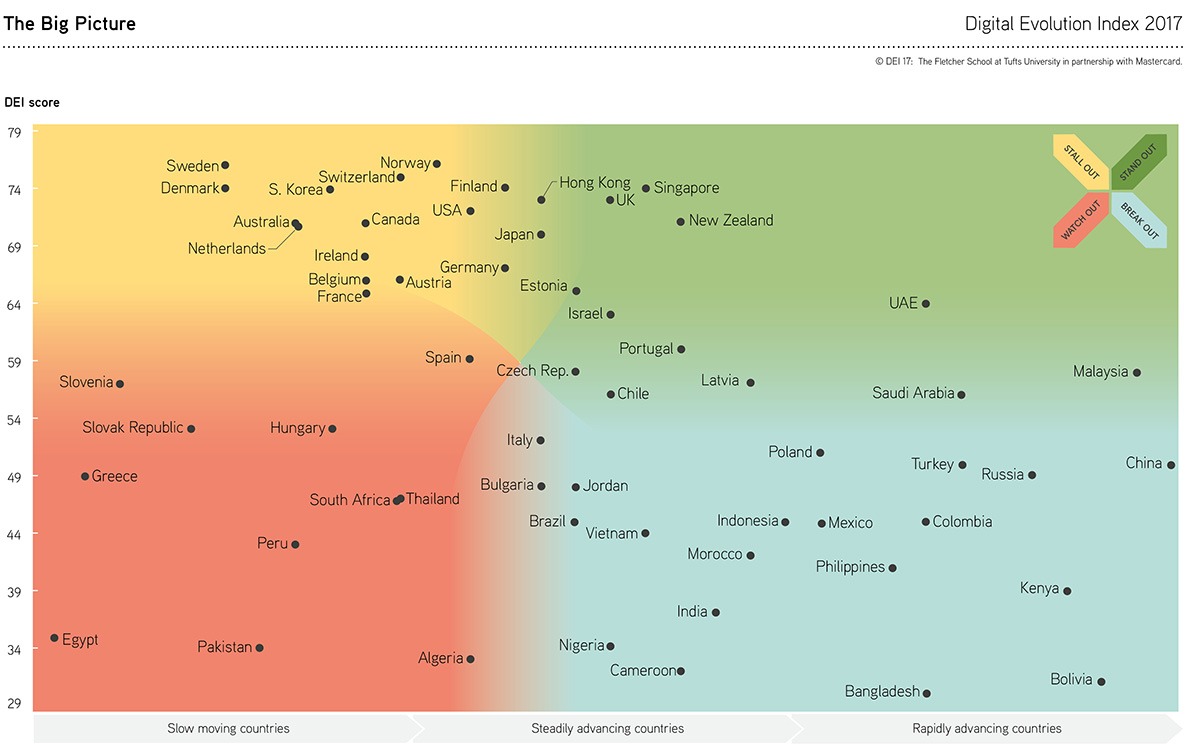 The scores for digital evolution (the latest year, 2015, y-axis) and digital momentum (change over time, 2008–15, x-axis) are plotted together to provide a graphical representation of each country's standing according to both measures. On this landscape, countries fall into one of four quadrants of development:
Stand Out nations can be considered the digital elite; they are both highly digitally evolved and advancing quickly.
Stall Out nations have reached a high level of digital evolution, but risk falling behind due to a slower pace of progress and would benefit from a heightened focus on innovation.
Watch Out countries have low rankings for both measures. They have a lot of work to do, both in terms of infrastructure development and innovation.
Break Out countries score relatively low for overall digital evolution, but are evolving quickly enough to suggest they have the potential to become strong digital economies. While there are a wide variety of reasons for countries to be in the Break Out zone, they are generally making gains in the innovation space or in consumer demand. However, many of them are held back by weak infrastructure and institutions.
The DEI 17 reveals how a country measures up and also how it might take inspiration from techniques and initiatives that have proved successful elsewhere. This is essential knowledge, not just for businesses and institutions looking for opportunities in the changing digital landscape, but also for governments and policymakers overseeing the evolution of the digital environment and capability.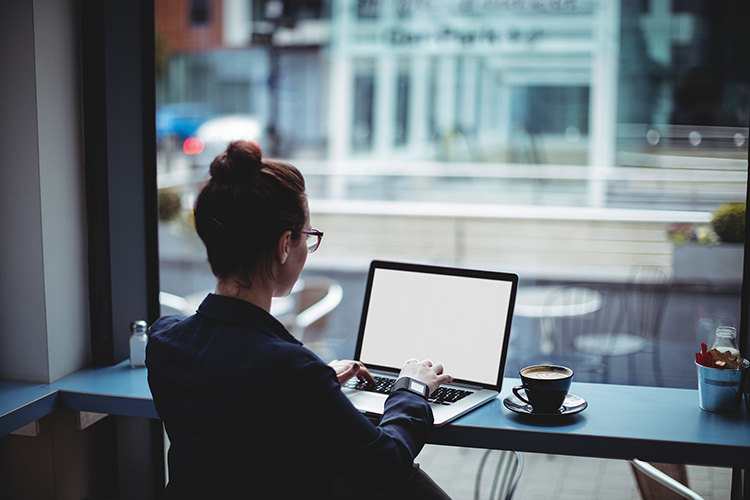 The digital trust environment
Central to digital evolution is digital trust. The idea of trust has been important throughout the history of commercial transactions. As interactions are increasingly conducted digitally and affect more and more aspects of people's lives, digital trust continues to grow in importance. The challenge thus far is that trust has proven difficult to understand: what creates it, what its benefits are, and how one might hope to instill it in customers.
The DEI 17 incorporates a newly devised framework for digital trust that takes into account:
the trustworthiness of the digital environment for each country
the quality of users' experience
attitudes towards key institutions and organizations
people's behavior when they interact with the digital world
Digital trust is rooted in relationships. The guarantors of digital trust form one axis: the institutions, businesses, individuals and governments responsible for creating and fostering a trustworthy digital environment and experience.
The givers of trust represent the other side of this relationship: the consumers, who through their behavior and attitudes reflect and reveal their preferences and sentiments. Analysis of trust data relating to givers of trust shows that what people say is not always a reliable predictor of how they behave.
An important aspect of digital trust is friction: the frustrating aspects of interactions that slow users down when they attempt to complete a transaction. Friction can be found in many places, including in slow page load times, prompts to re-fill information already submitted, annoying ads, necessary security measures and unreliable technology. While some sources of friction are necessary to ensure security and privacy, many others are unnecessary – and needlessly frustrate users.
Tolerance for friction in digital interactions varies from place to place. Countries with fast momentum seem to demonstrate more patient and engaged behavior. Digitally advanced countries are more sensitive to friction.
The DEI 17 reveals these and other crucial insights that can help senior decision-makers across industries, including government, identify how they can help take their country's digital economy to the next level.
1 Meeker, Mary. Internet Trends 2017 – Code Conference. Kleiner Perkins. May 31 2017. kpcb.com/internet-trends
2 McKinsey Global Institute. Digital globalization: The new era of global flows. February 2016.
All trademarks and trade names are the property of their respective owners.
Explore further insight on the Digital Evolution Index 2017