Great expectations: friction and fervor in the digital experience


As digital platforms become increasingly central to everyday life, countries must accelerate their digital growth to become and remain globally competitive. The Digital Evolution Index 2017 explores just how this can be done.
To download a PDF version of the site content click here.
This article relates to the 2017 edition of the Digital Planet Report.
"It takes 20 years to build a reputation and five minutes to ruin it," billionaire investor Warren Buffet once said. Trust is crucial to the economy, society and pretty much every part of everyday life, including our digital interactions.
The global financial crisis of 2008 has exacerbated the scarcity of trust.
Digital technology is dissolving national borders and making it easier than ever to communicate and do business instantly, in almost any place or at any time.
Rapid advances in digital technology in the last 20 years have created big benefits (convenience, speed, access to virtually all known information, new business opportunities) but also big problems (increasingly sophisticated cyberattacks and worries about data privacy).
Trust in a digital age
How is all this financial, technological and social upheaval affecting trust online? It's a simple question with profound consequences, including for the global economy.
Trust is becoming increasingly important to online transactions. But it isn't universal. The DEI 17 found major differences in the level of digital trust in different countries.
In those nations undergoing rapid advances in digital technology – such as China, Malaysia, Bolivia, Kenya and Russia – individuals are more tolerant of slow and unreliable online technology, compared to users in countries where technology is more advanced.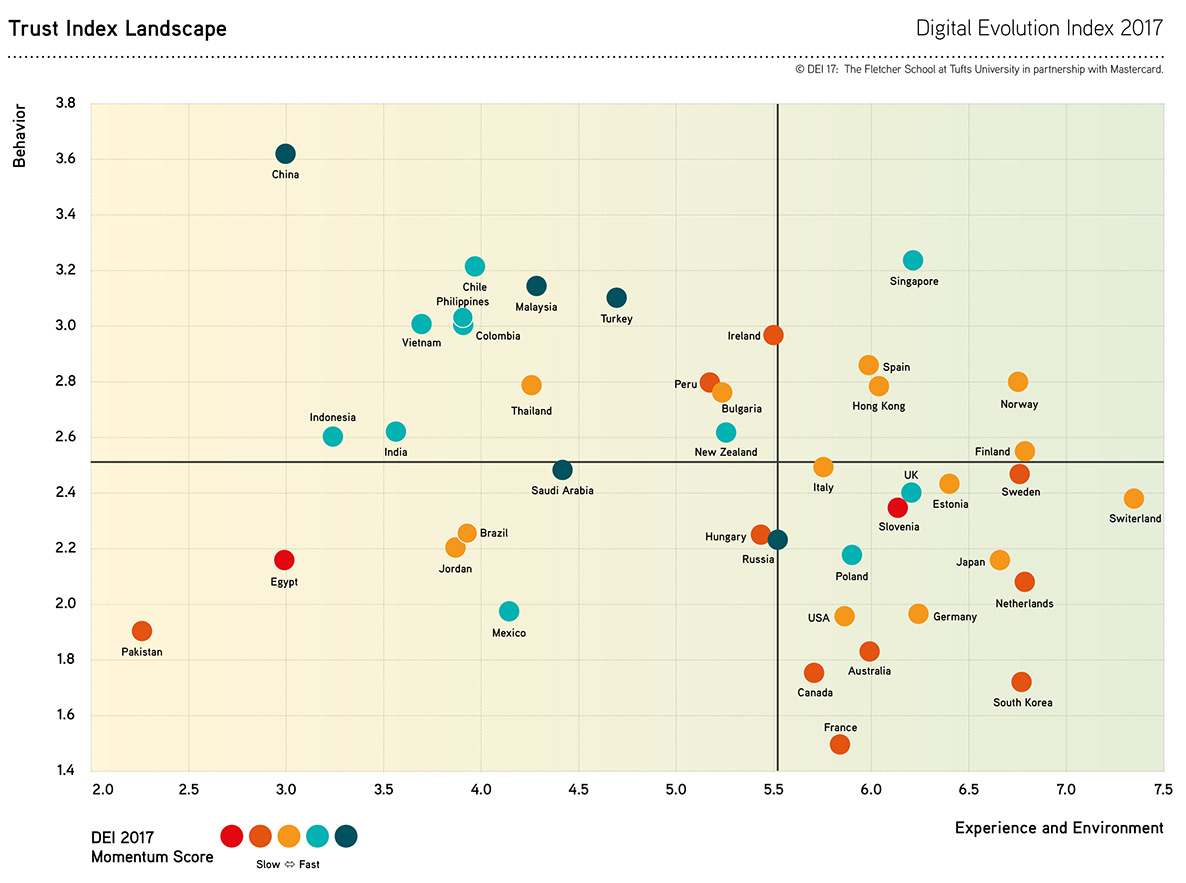 The need for speed
"Momentum – the pace at which a country is digitalizing – correlates positively with high tolerance," says Dr Bhaskar Chakravorti, senior associate dean of International Business and Finance at The Fletcher School at Tufts University.
"In developing countries, consumers' tolerance for patchy broadband and unwieldy interfaces may decline as their expectations rise"
"China has by far the most tolerant population when it comes to the digital experience and environment," he continues. "The trust indicated by this level of citizens' patience with sometimes erratic technology can be connected back to the momentum with which China has evolved, digitally, since 2008 – the highest among all the countries featured in the DEI."
So, although Chinese citizens may have to put up with digital technology that's generally inferior to (for example) that found in South Korea, China's technology has still improved enough over two or three years to make its citizens more patient with its current state – which is far better than in the recent past.
Countries where the digital experience and infrastructure are better tend to have more advanced digital economies and a higher reliance on technology.
Over time, consumers' expectations in these countries have grown higher. Consequently, minor digital disruptions can cause major frustrations.
Digital honeymoon
"Consumers in 'high momentum' countries may be having a honeymoon period in their attitudes towards technology," says Chakravorti. He adds that in developing countries, consumers' tolerance for patchy broadband and unwieldy interfaces may decline as their expectations rise.
A common question is: "How can countries (both developed and developing), increase trust in digital technology?"
If the first step to increasing digital trust is understanding it, the second step is to aim to be more trustworthy.
"Increasing trust" is an overly simplistic goal in the digital world – phishing scams, fake online news, hoaxes and identity theft all speak to the necessity of some level of skepticism. Guarantors should work towards intelligent trust, by first aiming to be trustworthy.
In the same manner that Stand Out countries maintain their digital elite status through innovation and government support, guarantors should consider using practices and policies that increase transparency, accountability and security – while reducing unnecessary friction.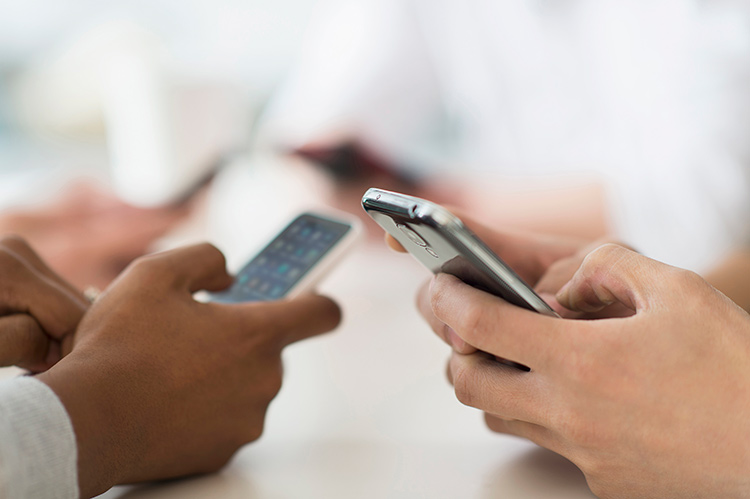 Once again, Estonia provides a good case study. With their e-IDs, Estonian citizens can complete just about any state or municipal service online, and in minutes. Citizens can also log into their state portal accounts to see not just who can access their information, but also who has accessed it – providing a high level of transparency.
There are calls for innovation in the policy space – re-thinking existing laws and protections to catch up with the digital age.
One example of this is the regulation of algorithms – mathematical formulas used to decide what news to show Facebook users, or which areas to deliver services to. Algorithms play important roles in some of the world's most popular online products and services.
In the past year, there has been growing concern that technology companies have been using algorithms to manipulate public opinion, increase inequality and even discriminate against people based on their ethnicity1.
"Digital guarantors should consider using practices and policies that increase transparency, accountability and security – while reducing unnecessary friction"
New technologies such as artificial intelligence and the internet of things (sensors connected to the internet through everyday items, from coffee makers to cars) are set to make algorithms even more entrenched in our everyday lives.
Some have even suggested that there should be a national algorithm safety board2 so that algorithms are used responsibly, for the greater public good.
"Today, it's a bit like the Wild West," says Chakravorti. "Every company creates algorithms in their own way. Businesses, governments and civil society will need to collaborate to develop rules and principles for safeguarding trust in the digital economy."
Countering cyber threats
The proliferation of cyber security threats is another major impediment to digital trust, particularly in developed economies.
Simple precautions such as two-factor authentication (signing in to a website with your password and then entering a code that has been sent to your phone) and the use of biometrics may help protect us from hackers – yet they also create more friction.
Increasing trust online or offline can be tricky, and requires balance. Digital trust is influenced by a handful of factors, including culture, the pace of technological change and the ease with which people can communicate and do business online.
As more of our world is digitized, trust online will soon become as, if not more, important as trust in the physical world. We need to invest more time, thought and resources in nurturing it.
1 Chakravorti, Bhaskar. 10 Questions To Ask Before Trusting The Nabobs Of The Net. Forbes, May 19th 2016
2 Macaulay, Thomas. Pioneering computer scientist calls for National Algorithm Safety Board. Techworld. May 31st 2017
All trademarks and trade names are the property of their respective owners.
Explore further insight on the Digital Evolution Index 2017