As digital platforms become increasingly central to everyday life, countries must accelerate their digital growth to become and remain globally competitive. The Digital Evolution Index 2017 explores just how this can be done.
To download a PDF version of the site content click here.
This article relates to the 2017 edition of the Digital Planet Report.
As the digital world permeates more and more areas of our lives, the degree to which people trust digital devices, interactions, services and the organizations behind them becomes increasingly important.
When people make purchases online, or give up their data through browsing and social media use, they want to believe that they will receive the goods they paid for, and that their data will not be misused.
But while there can be no doubt that trust matters in these contexts, there has been a lack of clarity about just what trust is – as well as how it can be earned by would-be guarantors, or instilled in users.
For that reason, the DEI 17 includes a newly developed four-part digital trust framework that is designed to help distill just what constitutes digital trust and establish why it matters. The elements of the framework are made up of four drivers: environment, experience, attitudes and behavior.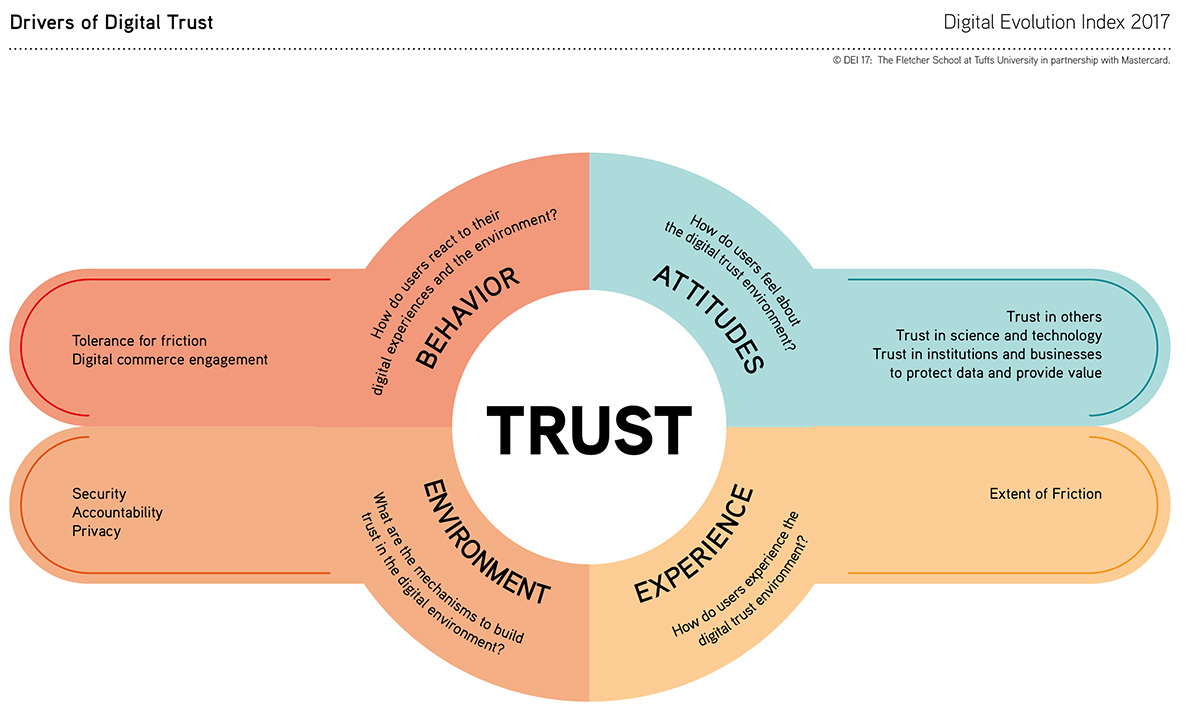 The first two drivers are controlled by the guarantors of trust: businesses, institutions and government. Environment relates to security, systems of accountability and privacy. Experience is characterized by the amount of "friction" that users in a certain country have to put up with when they engage with the digital world.
"The more quickly a country digitally develops, the more likely users are to exhibit more patience with friction, and increase their level of digital engagement"
The latter two drivers – attitudes and behavior – are controlled by consumers, the givers of trust. Attitude corresponds to users' self-reported levels of trust in large technology companies, online transactions, and the government's ability to keep their data safe. Behavior is a measure of how enthusiastically and patiently users engage with the digital world.
You might expect user behavior towards the digital world to correspond very closely to the reliability of their digital environment and the quality of their experience. But this isn't always the case.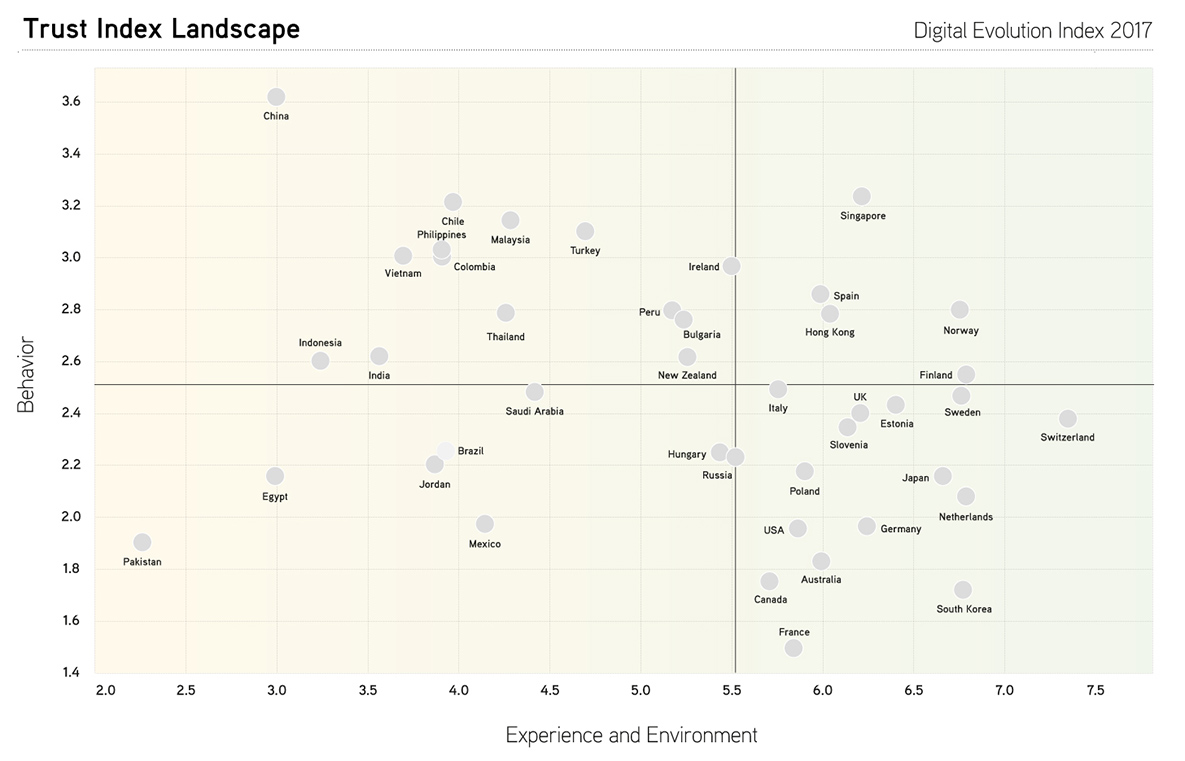 In South Korea, the digital environment and experience fostered by government and businesses is highly sophisticated. But consumer behavior here scores far lower than in top-scoring China, where the environment is significantly less advanced. There are a number of other digitally advanced countries where the same pattern is true.
China's rocketing smartphone adoption rate and related high momentum score suggest exactly why this might be. When plotting behavior against experience and environment and overlaying momentum, as per the graph below, a pattern emerges: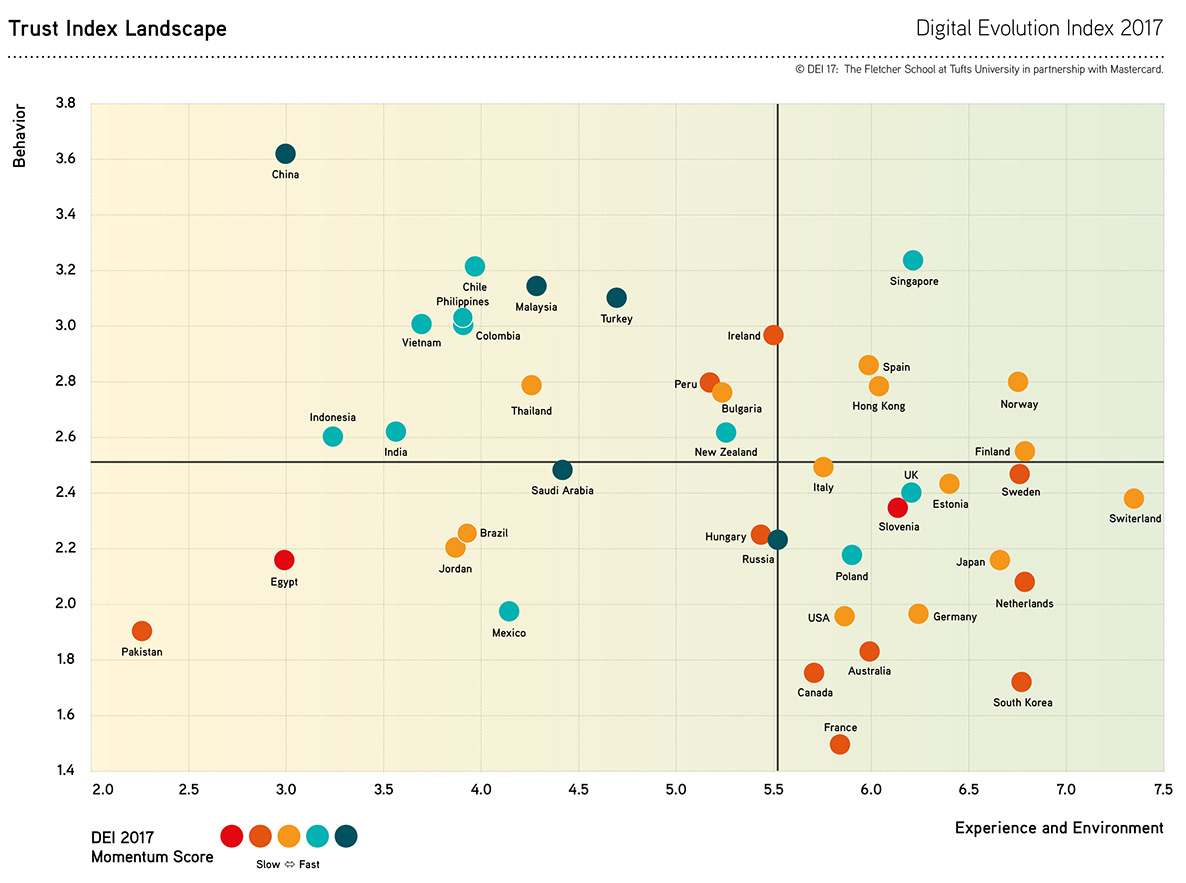 Although the relationship isn't uniform, there is a clear correlation: the higher a country's momentum score (blue), the more likely it is to score highly for behavior as well. In other words, it seems that the more quickly a country digitally develops, the more likely users are to exhibit more patience with friction, and increase their level of digital engagement.
These findings point to a responsibility across the external guarantors of trust – government and business leaders – to push for continued innovation in technology and the policies surrounding its wider implementation in society. In the short term, this push will increase countries' rate of evolution, and in turn inspire greater patience and engagement from users, as they realize greater value in new technologies and products.
All trademarks and trade names are the property of their respective owners.
Explore further insight on the Digital Evolution Index 2017