Smart Communities Coalition Design Workshop
The Smart Communities Coalition held its first design workshop on March 27–28, 2018, at the Mastercard Labs for Financial Inclusion in Nairobi, Kenya, with 45 SCC members and collaborators in attendance from 28 organizations.
The goals of the workshop were to:
Develop a shared understanding of success of the coalition, including how we intend to work together to achieve our goals
Identify opportunities for collaborative problem solving on a first round of pilot activities in Uganda and Kenya
Establish next steps and commitments to action via pilot roadmaps
The members developed nine pilot concepts that span the three SCC pillars.
The Coalition's second annual workshop will be held on February 27–28, 2019, at the Mastercard Labs for Financial Inclusion. It will offer an opportunity for members to share lessons from last year and build on the progress of the pilots.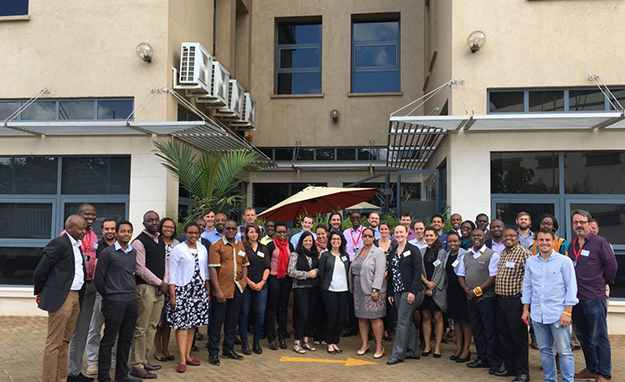 2018 SCC Design Workshop participants in Nairobi
To learn more and join the Smart Communities Coalition, contact: